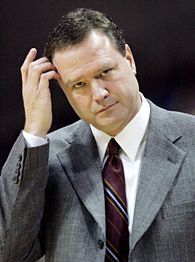 It seems like even when things are going well for Bill Self the eyes of all Kansas fans are watching him, judging his every move. This time Jayhawk fans want to see if their coach, who lead them to their first National Championship in 20 years, is going to leave them. Last week it was rumored that Self was interested at taking over at his alma mater which is Big 12 rival Oklahoma State. The job opened up after Sean Sutton resigned after two years of being the Cowboys head coach. Now they want Self and for good reason. He is an amazing recruiter, and finally got over his elite eight hump and now has a championship on his resume. Not to mention he played basketball at OK State. However, even though he has a long history at Oklahoma State, I wouldn't accept the job.

Self's Road To Kansas Has Been A Long One.
Self's coaching career ironically started at the place he is currently employed. From 1985-1986 he was an assistant coach on for Kansas. For the next seven years he was an assistant at OK State. He finally got his first head coaching position at Oral Roberts started during the 1993-1994 season where he won only six games. It took him only two more seasons to build Oral Roberts in a contender, winning 18 games in his third year and in his fourth he guided the Golden Eagles to their first ever NCAA tournament in over 10 years in 1997. After the 1997 season, he was hired at the University of Tulsa and in just three seasons he guided Tulsa to their only Elite Eight. He then took a job at Illinois where in his first season lead the Illini to the Big 10 title and a birth in the Elite Eight. Then after two more successful seasons he went back to the place that gave him his first coaching job.

Oklahoma State his next destination?
Now Oklahoma State is throwing money at Self to be their next head coach. Self said he is committed to staying at Kansas and I fully believe him. He reminds me a lot of Les Miles and how he handled the situation at Michigan opened up. He said he was committed to LSU first and even though being a Missouri Tigers fan and hating Bill Self's guts I do have immense respect for how the guy handled the first round losses to Bucknell and Bradley back to back years and how he handled the critics saying he couldn't get over the Elite Eight hump. I hate flaky coaches who jump from one job to the next. Honestly coaching the Kansas Jayhawks is one of the Top 10 best schools to coach in college basketball. While he would be at his alma mater at OK State and would get more money to coach there Kansas is a once and a lifetime job. He just won a title there, meaning the fans will back off of him a bit. Not to mention I see a contract extension in his future. If Bill Self is smart he will be coaching Kansas for sometime to come.