The pretenders are now out of the tournaments. In the Sweet 16 legends are born. Players and coaches make a name for themselves as teams inch closer to the Final Four in San Antonio. A preview of the action for the next two days.

Memphis vs Michigan State
How They Got Here-Memphis beat Texas Arlington 87-63 and Mississippi State 75-72. Michigan State-beat Temple 72-61 and Pittsburgh 65-54.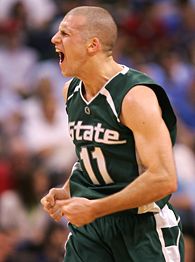 The player that has really impressed me this tournament has been Michigan State freshman Kalin Lucas. His speed was huge in their second round win over Pittsburgh. He and his Spartan teammates are playing a team in Memphis that likes to get up and down the floor themselves. The huge problem for Memphis is their free throw shooting which kept Mississippi State in the game in the second round. If the game comes down to free throws, Memphis loses thats that. The X factor in this game is Drew Neitzel, if he is on the Spartans pull the upset, if he isn't his career at Michigan State is over.


Texas vs Stanford
How They Got Here- Texas beat Austin Peay 74-54 and Miami 75-72. Stanford beat Cornell 77-53 and Marquette 82-81 F/OT.
In my opinion the game of the Sweet 16 because whoever comes out of this game will be playing in San Antonio. Texas has the guards, Stanford has the big men inside. Stanford barely won a game against a team that is guard dominate in Marquette and Texas has the best guard tandem in the D.J Augustin and A.J Abrams. The Lopez brothers inside have given teams trouble all year long and cause problems. I think this game goes to overtime with the Longhorns winning because of their ability to knock down clutch three pointers.

UCLA vs Western Kentucky
How They Got Here-UCLA beat Mississippi Valley State 70-29 and Texas A&M 51-49. Western Kentucky beat Drake 101-99 F/OT and San Diego 72-63.
The Hilltoppers are this years Cinderella coming out of no where to shock Drake in overtime then took care of one of the hottest teams in the NCAA in San Diego. Is there anyway they can beat the Bruins? Yes in fact there is. Chances might be slim to do it, but UCLA should be ready for forty minutes of great basketball, something they didn't do against Texas A&M and it almost cost them. If Courtney Lee can get hot against UCLA and if Ty Rodgers is on, UCLA could be going home after tonight. Realistically though I don't see it and I think UCLA wins by 8.

Xavier vs West Virginia
How They Got Here-Xavier beat Georgia 73-61 and Purdue 85-78. West Virgina beat Arizona 75-65 and Duke 73-67
How good has Joe Alexander been the past couple of months? His 22 points and 11 rebounds helped propel the Mountaineers into the Sweet 16 over #2 seed Duke. Xavier had two close calls against Georgia and Purdue will the third time not be so lucky for Xavier. West Virginia definitely has the guard and the style of basketball to compete with the Musketeers but ultimately it is going to come down to defense for the Mountaineers. So far in the tournament they have only allowed an average of 66 point in their two contests. I think it is going to end up being a low scoring ball game with Xavier pulling it out in the final minute to win by 2.

Wisconsin vs Davidson
How They Got Here-Wisconsin beat Cal State Fullerton 71-56 and Kansas State 72-55. Davidson beat Gonzaga 82-76 and Georgetown 74-70.
Davidson is in my opinion the feel good story of the tournament. A team so close to three monumental upsets this non conference season final got one in the win over Georgetown. They have a team that plays more their style of basketball in Wisconsin who wins with great defense. If Stephen Curry can stay hot (he is averaging 35 points in the tournament so far) Davidson has a shot at the Elite Eight. This is where I think the upset will happen. I think Davidson keeps the emotions flowing and they pull out another huge win against the Badgers.

Kansas vs Villanova

How They Got Here-Kansas beat Portland State 85-61 and UNLV 75-56. Villanova beat Clemson 75-69 and Sienna 84-72.
I loved the effort that Nova showed in getting back into the game with Clemson that they eventually won. They didn't quit which is something I liked. They are gonna need some of that if they want to have a chance to beat the Jayhawks. I have no doubt KU will have a double digit lead at some point in the first half. How Nova responds is going to be the factor in this game. If they can go on a run and chip away at that lead and then keep it low in the final minutes they have a shot. Problem is I think Kansas is just way too talented for the Wildcats and the Jayhawks will end up winning this on by 19.


Louisville vs Tennessee
How They Got Here-Louisville beat Boise State 79-61 and Oklahoma 78-48. Tennessee beat American 72-57 and Butler 76-71 F/OT
This game is probably the second best one out of the bunch. I expect this game to be a high scoring dogfight. Louisville should win the battle inside with David Padgett inside but Tennessee and its trio of Smiths (Jamar, Tyler, and Ramar) along with Chris Lofton will be a tough task at hand. However, I think Louisville's experience is what propels them into the Elite Eight with seniors Padgett and Juan Palacios along with an experienced sophomore guard in Edgar Sosa. Ultimately I think it is close, but Louisville wins.

North Carolina vs Washington State
How They Got Here-North Carolina beat Mount Saint Mary's 113-74 and Arkansas 108-77. Washington State beat Winthrop 71-40 and Notre Dame 61-41.
North Carolina steam rolled through the first two games of the tournament while Washington State used second half runs to pull away from its competition. North Carolina has been scoring over 100 points this entire tournament but I don't see that happening against Washington State who is holding opponents to 56 points per game this entire year. Because of that Washington State will keep themselves in it. What is going to give Washington State problems will be North Carolina's transition game, which in my opinion is the best in the nation. If Washington State turns the ball over 15 to 20 times they will lose by 20. I think North Carolina will end up winning by 10 thanks and move into the Elite Eight.

I hope everyone has a great weekend of basketball ahead of themselves. Tune in on Monday for a recap of the Sweet 16 and the Elite Eight.