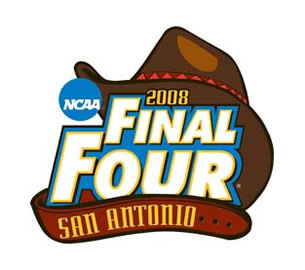 Its my favorite time of year. The brackets are out, the bubbles have been popped and starting on Thursday 64 teams try to run the table and win the national championship. Here is my first ever breakdown of the bracket here on Gonners View with everything from first round and second round upsets, dark horses for the final four, my final four, and my national championship. So lets get started with my top five first round upsets in order of my confidence of them happening.


First Round Upsets
1. George Mason over Notre Dame-This has more obvious reasons than just the classic 5/12 matchup on it. George Mason still has a couple players starting from that team who made it all the way to the final four before losing to Florida in 2005. Notre Dame's early exit didn't help my confidence in the Irish either. This is one 5/12 matchup that has upset written all over it. Pencil in George Mason in the second round, and don't over look them for another upset in round.
2. Davidson over Gonzaga-
This matchup happens to be my favorite
of the first round. Davidson has been so close to monumental upsets this season, losing at the hands of Duke, North Carolina, and UCLA. This time I think they get over the hump. In fact I can see Davidson getting as far as the Elite Eight because of Stephen Curry's abilility to score. The Zags just didn't impress me in their double overtime lose to San Diego in the WCC championship game. Oh and I did I mention this game is solely being played in Davidson's backyard? Wildcats will get into the second round.
3. St. Joesph over Oklahoma-
Oklahoma getting a #6 seed is one of the few gripes I have in this years bracket. How can a team who lost 11 games be worthy of a 6 seed? They looked bad in their quarterfinal loss to Kansas and St. Joesph will send them home early from the tournament. Outside of Blake Griffin, the Sooners really don't have a huge scoring threat. St. Joe really impressed me with their semifinal win over Xavier in the A-10 tournament and I think will continue that success in the tournament.
4. Baylor over Purdue-
People might see this as odd but I can see it happening. Both struggled in their resepctive conference tournaments but I think Baylor needs to come out and prove that they deserve to be in the field of 65 after an embarrasing loss to last place Colorado in the Big 12 tournament. This will be one of the more intruging first round games of the tournament.
5. Saint Mary's over Miami-Snubbed teams around the nation were grumbling at the sight of Saint Mary's being in the field of 65, but I honestly think they deserve to be here and will give Miami a really tough test in the first round. Miami this entire season hasn't really impressed me they only have one good win to note and that was at home against Duke. Expect the Hurricanes to struggle in this game and for Saint Marys to move on.
Potential Second Round Upsets
1. Davidson over Georgetown-
This is where Davidson's non conference schedule is going to help them. They might not matchup very well inside with Georgetown, but if they can contain Roy Hibbert and keep the Hoya guards from going off from three point land I think Davidson has a chance to pull the first major upset of the tournament. If the Hoya's shutdown Curry though its all over for the Wildcats.
2. Indiana over North Carolina-
You might think I am crazy, but I can see this happening. D.J White can go toe to toe with Tyler Hansbrough inside and with Eric Gordon's ability to sink shots from anywhere on the court I see this being a tough game for the Tar Heels to get passed. If they do though they are pretty much a lock for the Final Four. Seeing as this might be the last time we see the Hooisers in the NCAA tournament for a couple of years they are going to bring everything they have to every game and that makes them a dangerous team to play.
3. USC over Wisconsin-
Outside of Indiana I really don't think there is a good team in the Big 10 conference. I mean for crying out loud Illinois almost sunk into the tournament with a sub .500 record. O.J Mayo will keep USC in it. Wisconsin really needs to prove something to me in order for them to get a little bit of respect from me.
4. George Mason over Washington State-
George Mason again. Yes I do believe that expeirence rather than talent helps teams when it comes to the NCAA tournament. GMU has a handful of players who were on the floor at the final four two years ago and I think that will help them in their quest for another final four berth. This should be a very competitve game.
5. Drake over Connecticut-
Seeding wise this doesn't look like an upset but on paper this would be a huge feat for Drake. A team picked to be at the bottom of the Missouri Valley Conference going on to beat UConn under first year head coach Keno Davis? Man that sounds like something out of a fairy tale. With the way Drake season has gone why not pick them over UConn
Dark Horses For Final Four
1. Stanford-
With two monsters down low in Robin and Brook Lopez should keep things interest for the Cardinal and create match up problems for opponents.
2. Louisville-
This team is very expereinced lead by David Padgent and with Rick Pitino patrolling the sidelines the sky is the limit for the Cardinals.
3.

Pittsburgh-
Beat Georgetown, Marquette, and Louisville in a three day span. Just think what they can do with a day in between games.
4. Xavier-
This team has the weapons to take out Duke in the Sweet 16 and has enough to give big bad UCLA some serious problems.
5. USC-With how easy the Midwest Region is, it wouldn't suprise me if O.J Mayo takes over basketball games and can get into a rematch with Kansas in the Elite Eight.
My Final Four
UCLA taking on Texas
Kansas taking on North Carolina
National Championship-UCLA over Kansas.