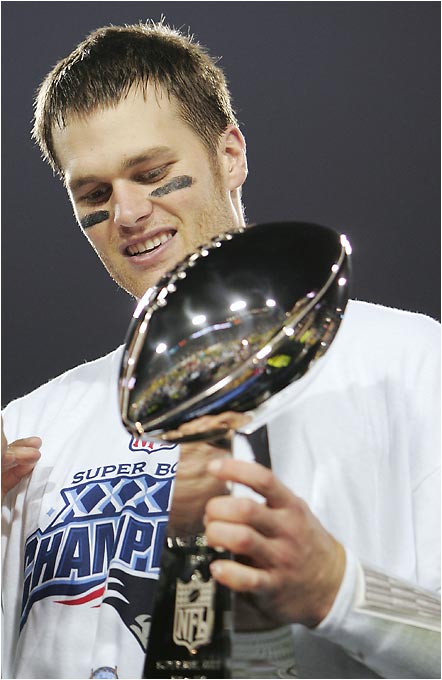 Everyone defines greatness a different way. Some define greatness through records. Some define it through championships. When you think of great quarterbacks some that come right to mind are Unitas, Montana, Marino, Bradshaw, Starr, Staubach, Elway, Farve, Manning, and, whether you love him or you hate him, Brady. On Sunday, Tom Brady has a chance to do what none of the quarterbacks on that list have done, and that is go undefeated. Some already say Brady is the greatest postseason quaterback of all-time and his resume defends that argument very well. Three Super Bowl rings, an undefeated record at home in the playoffs, and two Super Bowl MVPs. Not to mention he is the leader of what might go down as the best football team to ever step on a football field. Not bad for a sixth round draft pick out of the University of Michigan.

What It Really Means To Go Undefeated?
It means you will be glorified in history forever. Everyone knows Don Shula because he was the only coach to go undefeated. No matter how much you hate the New England Patriots, you have to admire the accomplishments that are waiting for them if they can get by the Giants Sunday. They may have "cheated", teams may have let the game slip through their hands, but they are the only team without a loss this season. Us haters may gripe and groan if in fact by the end of Sunday night the Patriots do win, but regardless of the outcome we will have seen history Sunday night. I have already explained what it means to go undefeated, but what if the all-mighty Patriots fall on Sunday? The Giants will have pulled off the biggest upset in Super Bowl history. Whatever happens its a story we can tell our kids, our grandkids, and maybe even our great grandkids. Because being perfect never happens No baseball team has won 173 baseball games, No one wins 98 basketball games, and its hard to find a team that can go undefeated in college football and they play no more than 13 or 14 games. 36 years have passed since the Dolphins went undefeated and it maybe another 36 or more before we seen another great team like the Patriots.

Where does Brady Rank as Far As Greatest of All-Time?
Right now Tom Brady is not the best quarterback to ever play the game, but he is close. I still think San Francisco great Joe Montana is the best quarterback to ever play football. To me its not all about the records, its about stepping up when the light is shined on you. Montana did that better than any quarterback I have ever seen play. He pulled last minute heroics (i:e The Catch against the Cowboys), and he shattered the competition when the experts doubted him (i:e 55-10 Super Bowl drubbing against the #1 scoring defense in Denver). Another thing Montana has four Super Bowl rings. Brady only has three. But Brady has a great chance of surpassing Montana. Why Brady has a chance is because he still rather young. Brady is only 30 years old, and is hitting his prime right now. If he stays in the NFL for 5 or 6 more years he could win more rings and could make more memorable moments. When it is all said and done Brady could be the best player that ever played the game. Thats right not just quarterback but player. In fact Sunday might be the day he passes Joe Montana, because no great quarterback has ever lead their team to an undefeated season. Tom Brady will no doubt be heading to Canton when his career is over, but we will have to wait and see if in fact he will go down as the greatest quarterback to ever play the game of football.